How to convert VCard Contacts to Outlook?
How to import Contacts to Outlook from VCard VCF files? How to convert VCF contacts to Outlook? VCF to Outlook conversion process.
VCard is a basically a standard VCF file format for Business cards. These cards are actually attached to e-mail messages and therefore serve as small online "storage packets". These VCards may contain several different types of items or data mainly including contact numbers, info, addresses, URLs, logos, images and other related data. Conversion of VCF contacts to Outlook has several benefits as Outlook is more proficient and fine as compared to a VCard.
But how and why contacts to Outlook conversion is done?
That's the actual question. The conversion of VCF contacts to Outlook format is done using conversion a software. All you need to do is to download and install Outlook conversion software and start it up. Select the contacts to be converted to Outlook format and after configuring the conversion options initiate the program. In this way your VCF contacts data would be converted to Outlook.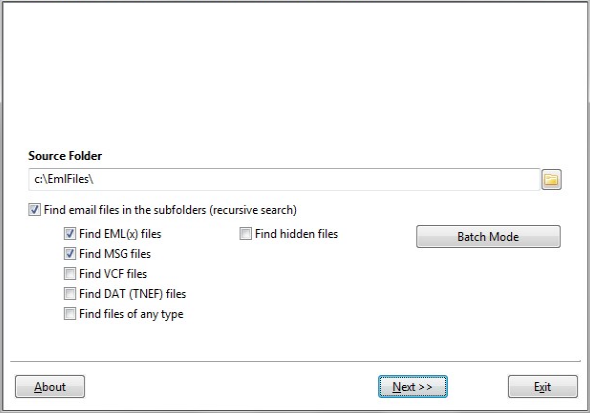 VCF Contacts conversion with Outlook Import Converter:
Download and install the Outlook Import Converter utility
Run Outlook Import Converter which corresponds to your Outlook edition type (32 or 64 bit)
Choose option "Find VCF files" and disable "Find MSG files" and "Find EML(x) files" options
Choose the source folder and press "Next" button to open the next page of the Wizard
The program will scan the folders structure and find all contacts VCF files
Now press the "Next" button and configure options if any needed
Press "Next" button and choose the target for contacts conversion. By default contacts will be imported to Outlook but you may also configure program to import contacts to .PST file.
Press "Start" button and wait for the end of VCF contacts to Outlook conversion
Outlook Import Converter allows to convert VCF contacts to several other file types and formats. You may also convert contacts to .html or .mht files for publication or convert VCF contacts to .txt, .rtf, .msg and other popular formats.
Why the VCF contacts conversion needs to be done?
There might be several inevitable reasons for that. One of the possible reasons is that the VCard contacts may contain important data like a list friends and family contacts that needs to be shared with certain friends or family members present in different parts of the world so converting contacts data to Outlook format makes it easier for you to share it with anyone you want.
Besides this, conversion of VCF contacts is helpful for people who have recently changed their office. They may have a list of contacts and some other important data in VCF format and they might need it in order remain in touch with old acquaintances. VCF to outlook conversion can prove to be of great help to them.
Another possible reason for VCF contacts to outlook conversion is that some business class people having blackberry phones want to convert their contact and other VCF contacts to outlook format for their own convenience in handling their contacts properly.